A recent UK study, published by Admiral, the insurance people, stated that going solar could increase the price of your home by up to 25%.
That's a pretty good investment and mirrors the kind of equity you can generate with an extension or garden room.
Admiral surveyed 2000 UK homeowners' perceptions of energy-saving measures then, using data from Estate Agents Rightmove to show how green home improvements can increase a home's value.
In 2013 the government released a report stating that homes could increase their value by adding solar, or other green measures, to the tune of 14%.
The US doesn't fair quite as well with Estate Agents Zillow finding houses with solar panels sell for an average of 4.1% more than similar sized houses without solar panels.
Now, that's an average so some may sell for less and some may sell for more but even the lower numbers show an improvement on the selling price.
Every home is unique and every buyer has their own ideas about what they want, so all figures we quote can change from house to house, but the trends definitely show a significant increase in the value of your property.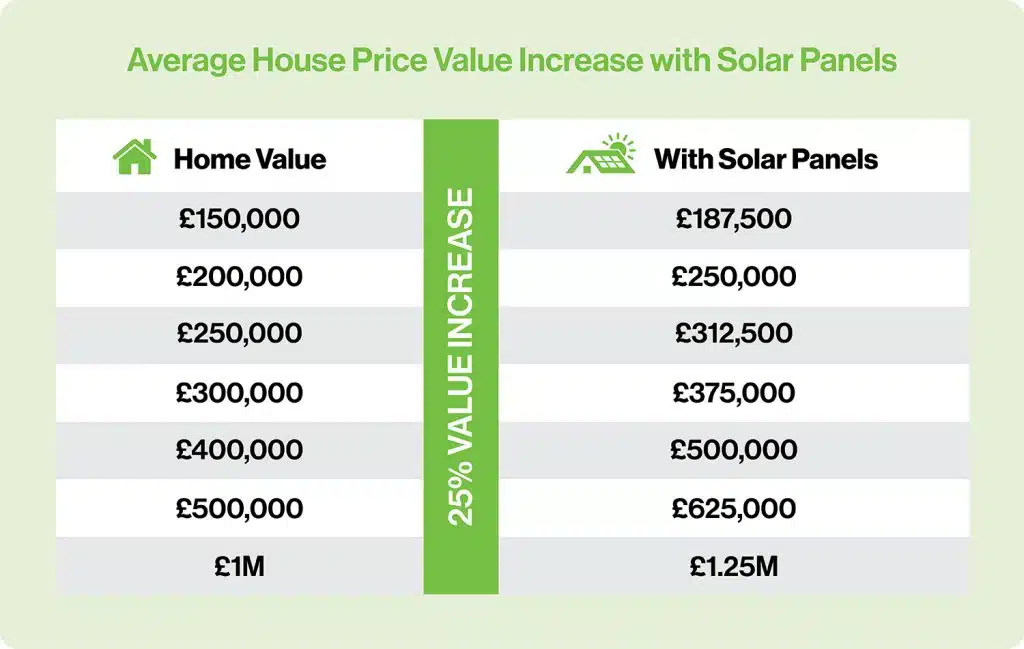 This is down to a few different reasons and those reasons are getting more and more compelling:
Cheaper electricity bills – no matter whether you sell electricity back to the grid, or just use energy to power your home during the day, you are definitely going to save money on your bills and, if a home is cheaper to run it's going to be worth more to a buyer.
Global Energy Crisis – this is a very strong reason to buy a house with a sustainable energy system. Modern houses are not going to be able to continue to be powered and heated by fossil fuels. Those fuels are finite and will eventually run out and, before they vanish, they will become very expensive.
Future Proofing – One of the main things people do when buying a house is economical research. If they buy a house with a solar energy system, they know they won't have to think about saving for a renewable power supply.
Environmental Impact – this is becoming more important to everyone and that includes people looking to buy a home. No one wants to move into a house that is inefficient, expensive and polluting, so saving around 1.6 tonnes of CO2 per year is a big plus point as 74% of adults are concerned about climate change, and 62% of people want solar panels!
Earning Opportunities – By using the Smart Export Guarantee (SEG) to sell excess electricity to energy companies, a full PV Solar system can earn a bit of extra cash for the homeowner.
What do the experts say?
They agree with us!
To quote another recent study:
'Government studies show improving the Energy Performance Certificate rating means homeowners can add as much as 14% to the value of homes. Renewable energy sources, such as solar, are one of the ways to improve EPC to power homes.'
It is a legal requirement when selling or leasing a house in the UK to have an Energy Performance Certificate (EPC), to ensure your home complies with basic standards, so the higher your EPC rating, the more your house is worth.
A separate California study that took a look at properties with solar panels over a 12 year period found that the average increase in house value, exclusively attributed to Solar Power, was 3.5%.
A similar study in New York City, a much more urban, cosmopolitan environment, found that a solar array could increase a property's price by as much as 5.4%.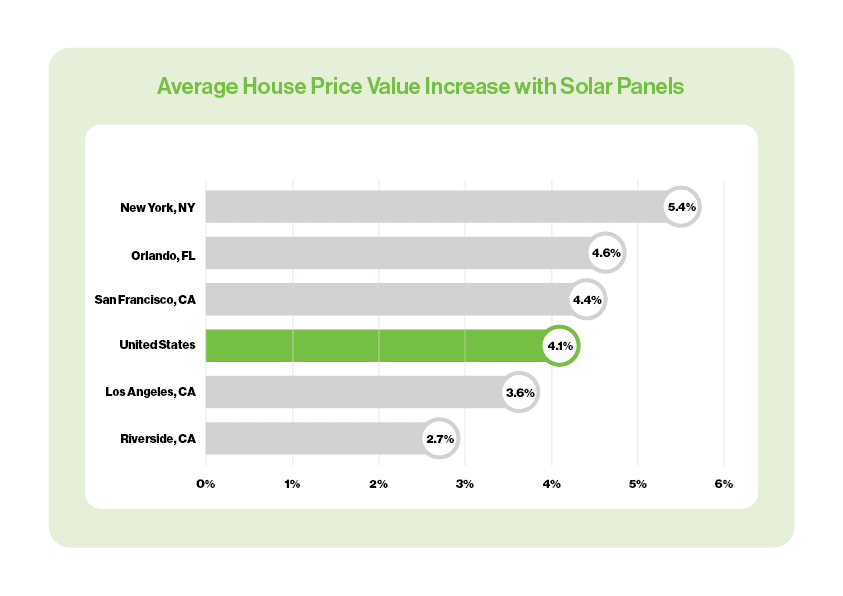 How does a Solar Energy System work?
One way of finding out if residential solar panels are good for you, and therefore your home, is knowing a little bit about how the technology works and what equipment is needed to get the best results.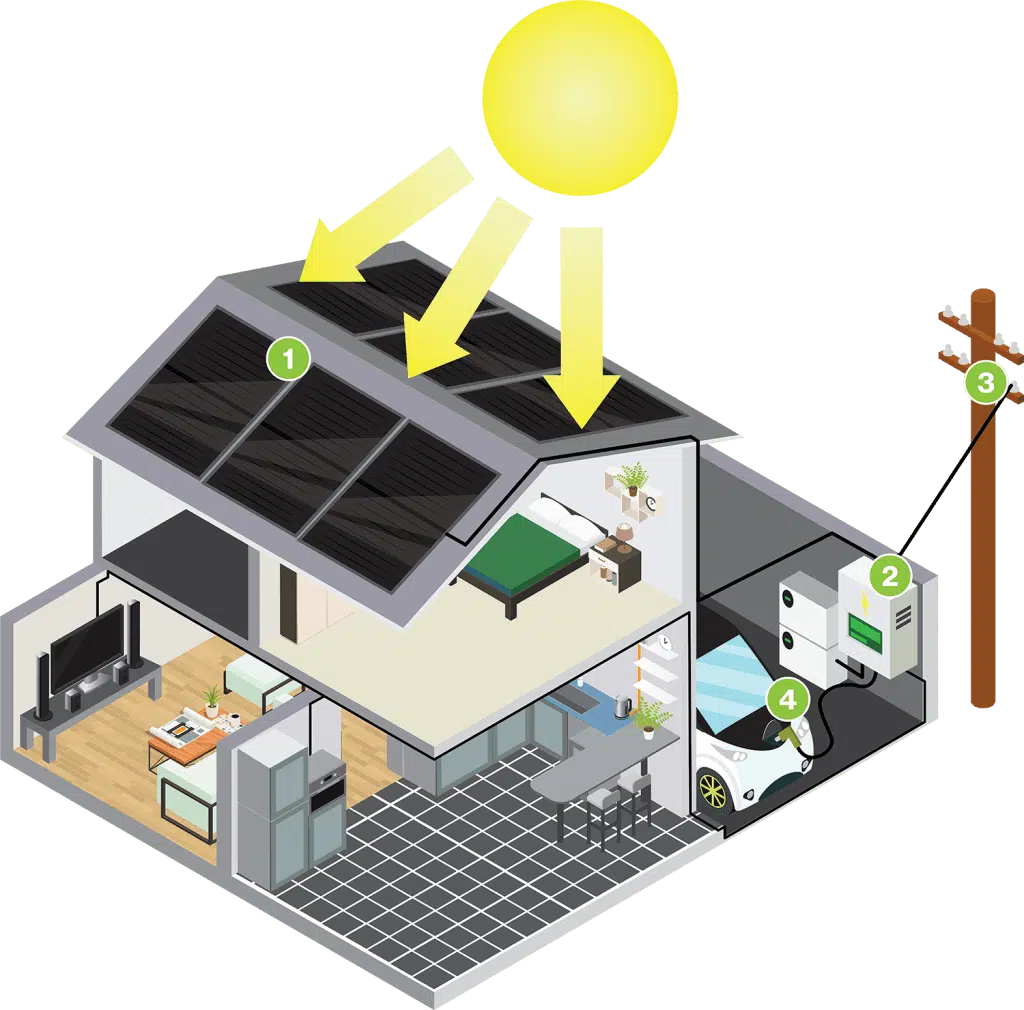 Solar panels – Inside a photovoltaic panel are lots of tiny cells. These contain materials that generate electricity when hit by the sun. Semiconductors within the cell move that electrical energy in the 'right direction', often amplifying it, to get it into your home. Most PV panels have either 60 or 72 cells. Here at Solar Fast, we install 104 Half Cell Tier One – as they are the most stylish, efficient and reliable solar panels on the market.
Inverter – The inverter converts the current from DC to AC to feed it into your energy system. While it sounds complicated you will have inverters on various appliances around the home – they are the ones with that little 'transformer' type plug.
Electric Meter – You obviously already have an electricity meter but it is still part of the system if you are still connected to the grid – which in 99% of cases you will be.
Battery storage – The advances in battery technology are coming on in leaps and bounds both in solar systems and electric cars. Advanced Lithium-Ion Batteries are the staple for solar because they are a fantastic way to store your electricity – reliable, long lasting and sustainable.
How much does a solar system cost?
This isn't an easy question to answer as all systems will be tailored to your needs and home. So, the best way to get an idea is to look at averages. You can get solar panels on finance too.
Non Battery set up
Your setup will depend strongly on what kind of energy use you have now and what you have planned for the future.

The average home is a 3 bedroom house with 4 or 5 occupants – but that doesn't help if you own a small home or have a large family.

We've looked through the paperwork and come up with a guide we feel is pretty inclusive.

You can, of course, add or subtract as many panels and accessories as you like.
| Home | Panels | Cost | Coverage | Inverter |
| --- | --- | --- | --- | --- |
| 1 bedroom house | 3 | £450 | 6 m² | £1000 |
| 1-2 bedroom house | 6 | £900 | 12 m² | £1000 |
| 3 bedroom house | 10 | £1500 | 20 m² | £1000 |
| 4 bedroom house | 12 | £1800 | 24 m² | £1000 |
This covers the cost of panels and the essential inverter but you would also have to add installation, warranties, and other bits and bobs to that total.

Considering investing in residential solar panels? The next bit of this blog will give you a better idea of the real cost of a solar system that will help you manage your energy costs.
Adding storage batteries to your solar energy system
Using all of the electricity you produce will save you more money than selling it back to energy companies.

The more storage you have, the less electricity you will pay for from the grid.

At the moment energy companies will charge you £0.27 per kWh on average, but they will buy any energy you produce for anywhere between 2p – 45p depending on your Smart Export Guarantee (SEG).

For that you are going to need battery storage.

Solar batteries aren't exactly cheap in comparison to the ones you use in the remote control – but, as they last for over a decade, they are a great investment to make and will save you a good chunk of cash.

The following table is based on an average set up for each household including fitting, inverter, batteries, maintenance and any other peripherals.
| Home | Panels | Cost | Batteries | Inverter |
| --- | --- | --- | --- | --- |
| 1 bedroom house | 3 | £5000 | 1 | 1 |
| 1 – 2 bedroom house | 6 | £6000 | 1 | 1 |
| 3 bedroom house | 10 | £13,000 | 1 | 1 |
| 4 bedroom house | 12 | £14,500 | 2 | 1 |
How much can you save with solar?
This question is why it is so hard to give a definitive answer to the 'Adding Value To My Home' question.
If you are generating enough electricity to drastically reduce your electricity bill that will increase the value of your home – who wouldn't want a home that's super cheap to run!
So, how do you save that money?
Firstly, by saving money on your electricity bill, which is something you will be doing whether you have a battery included in your system.
Studies in this emerging technology are still pretty hard to come by but these figures are from the Energy Saving Trust (link) and are pretty reliable.
Based on a 4 bedroom house in Manchester with gas heating and a hot water tank that is heated using a PV diverter to utilise surplus PV generation.
Home all day – Saving = £630 a year (average)
Home in the morning – Saving = £540 a year (average)
Home in the afternoon – Saving = £520 a year (average)
Out until 4pm – Saving = £420 a year (average)
Out until 6pm – Saving = £385 a year (average)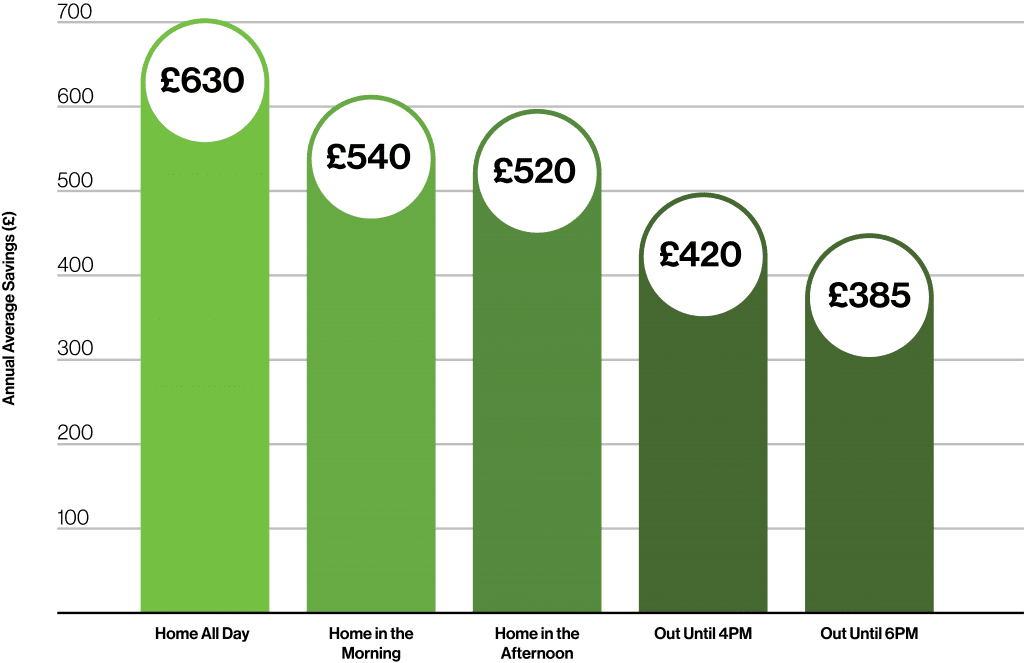 You can increase the saving by another few percent a year by signing up to an SEG, or Smart Export Guarantee, to sell excess electricity back to your energy supplier.
How will panels make my house look?
This is a very contentious question as taste varies wildly. Just like some people love to see windmills dotted across the landscape, other people will fight tooth and nail to make sure their view is clear of any kind of renewable energy generation.
Studies reveal this is very much an age related trend though – people over the age of 55 tend to be sceptical of solar energy in general and also prefer their homes to be 'clutter' free.
Younger people see solar panels on a home to be a plus – they don't find them distasteful, they are more interested in sustainable energy and some younger folk believe they actually add to the aesthetics of a home, especially in cities.
The Tier 1 panels these days look pretty slick too, all glossy trimmings and jet black finish – sure beats the usual red tiles and moss to us!
What are the maintenance costs?
Solar panels are one of the few things in your home that will last for decades without too much aftercare.
Most Type 1 panels are guaranteed for up to 25 years and, as they have no moving parts, they don't require servicing or replacing.
So long as you keep them clean, scratch free and out of the shade, your residential solar panels will still be running at 80% efficiency after 3 decades.
You may need to replace a few wires here and there, and other parts of the system will need updating as the years go by, but a typical PV system requires very little maintenance.