How long is a piece of string?

We know that's not very helpful but the price of residential solar panels is not an easy question to answer as the variables involved affect every stage of an installation.

So, it's best to offer a few averages with the caveat that the numbers will change from home to home.

A solar panel installation, for a three-bed semi-detached house with four occupants, will set you back between £10,000 – £14,000 with battery storage using a trusted provider.

That would include the essentials:
| | |
| --- | --- |
| Solar Panels | Inverter |
| Wiring | Labour |
How much does a solar energy system cost?
Obviously, you need the panels plus you would need an inverter. We would also recommend battery storage so you have the choice of either using all the energy you generate or selling into the grid.
Price Of Solar Panels
The best, most cost effective on the market are currently Type 1, 104 Half Cell Monocrystalline panels that are 1.7 x 1.1 metres and will produce 405W – these generally retail for between £100 and £350 and are the latest, state-of-the-art, modern all black panels!

These panels offer an efficiency rating of up to 24%, and they function at between 98% and 84% of that over 25 years and last well over 40 years.

So, based on that, we would say that panels alone would cost:
3 kWh System – 8 Panels – £800 – £1,200
4 kWh System – 10 Panels – £1000 – £1,500
5 kWh System – 13 – 14 Panels – £1300/1950 – £1400/2100
6 kWh System – 15 – 16 Panels – £1500/2250 – £1600/£2400
You can choose solar panels on finance with us.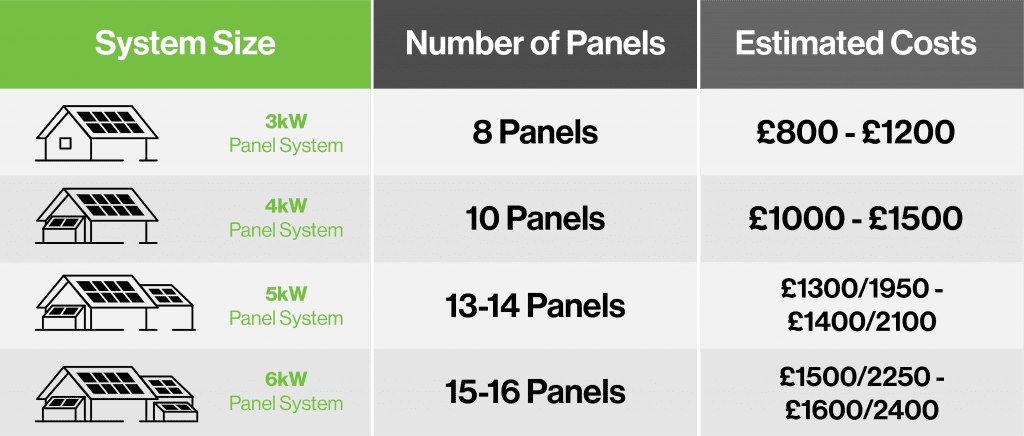 Price of Solar Inverters
Unless you are happy to use a DC supply, which will power about 6 things in your house, you will need an inverter – actually, the system won't work without an inverter.

Inverters convert the DC electricity that the panels produce into AC electricity that you can use throughout the home.

The most efficient kind of inverters are micro inverters as each unit connects directly to the solar panel. Unfortunately, this means they are exposed to the elements, so they are more susceptible to damage.

Microinverters generally cost £100 – £150 which may sound cheap but when you need one for every panel the cost soon starts to ramp up.

String inverters are the kind that are generally used on Solar installations as they can handle multiple panels at once – and they can be stored inside.
String inverters can cost between £500 – £1000 depending on the size of the system
The only problem with string inverters is that if a panel is shaded or broken it will produce less power than the other panels, and the system will only perform at the level of that shaded/broken panel.

This is where power optimisers come in. They can be attached to the low performing panels to bring its output inline with the other panels in the system.

Power optimisers cost around £40 and you will only need them for low performing panels in your system.
Hybrid Inverters are, essentially, string inverters but with extra functions to direct charge to your battery. They generally retail for between £1500 and £3000.

Learn more about solar inverter costs.
Batteries and storage
While batteries aren't an essential part of a solar energy system, they are definitely a sound investment and most people opt to include some level of energy storage.

Energy companies will be charging you 27p per kWh for electricity and paying you as little as 1p per kWh for any you sell back.

A battery will mean you can continue using your energy after the sun goes down.

If you are out at work all day it means the electricity you generate between 9 and 5 will either go to the grid or be wasted – unless you have a battery. If you're at home all day you will be using that electricity so a battery may not as practical.

Battery prices vary depending on the amount of storage you need.
A 5.8 kWh Lithium Battery will be around £2,800
A 6.5 kWh Lithium Battery will be around £3,500
A 10 kWh Lithium Battery will be around £4,800

EV Charger
If you are jumping feet first into the green revolution and have an electric vehicle it's going to need charging.

An EV charger is very much an 'add on' to any solar energy system but it's certainly one worth having, especially as they are pretty cost effective.

Charging your car at home would be free, or at least just the price of a kWh if you are using the grid, charging at a charging station adds an extra 15% VAT … then there will be extra costs so the station makes a profit.

A standard 7kW home fast charger would cost around £500 – £1,000 to buy and install.

However, you can spend 1000s if you are looking for multi-chargers or something with a much bigger power output.

So, what is the average cost of Solar Panels for different property types?
Once again we'll work on average usage, in average homes, with an average amount of occupants.

1 Bedroom House may get away with 3 panels, at £150 each. So, we would be looking at £450 for the panels.

1-2 Bedroom House would need twice as many panels so they would cost £900.

A 3 bedroom home would need a covering of about 20 metres squared, so about 10 panels, at a cost of £1500.

And a 4 bedroom home with 12 panels would be spending £1800.
| Home | Number Of Panels | Price | Space |
| --- | --- | --- | --- |
| 1 bedroom house | 3 | £450 | 6 m² |
| 1 – 2 bedroom house | 6 | £900 | 12 m² |
| 3 bedroom house | 10 | £1500 | 20 m² |
| 4 bedroom house | 12 | £1800 | 24 m² |
Though it's worth noting this is the price for the panels only, it does not include fitting, labour, monitoring, inverters, batteries or anything else.

When you add in the whole cost of the figures, for a system with 1 or 2 batteries, the average would be:
| Home | Number Of Panels | Cost | Batteries |
| --- | --- | --- | --- |
| 1 bedroom house | 3 | £5000 | 1 |
| 1-2 bedroom house | 6 | £6000 | 1 |
| 3 bedroom house | 10 | £13,000 | 1 |
| 4 bedroom house | 12 | £14,500 | 2 |
What factors can affect Solar Panel Costs in the UK?
We have looked at average cost here for various different parts of a solar energy system, but there can be several factors that affect costs for equipment, fitting and maintenance.

So, let's take a look at the variables.
1.) Size of your system
Panels are very varied, coming in many sizes, quality and power output. The bigger your energy requirements, the more pancakes you are going to have to install and that will add to the cost of not just equipment but labour also.

An average system size of 4kW will cost around £6,000 to install but an 8kW system would be a good chunk more.
2.) Type of panels
Yep, not only are they different sizes, quality and power output, there are also different types of panels.

These are monocrystalline, polycrystalline, and thin-film solar panels.
Monocrystalline panels have the highest efficiency and are pretty much the only kind of panels used in domestic installations in the UK.
Although monocrystalline panels are more expensive, costing about £1 to £1.50 per watt, you would need many more polycrystalline to produce the same power.

3. Installation Process
You could install the system yourself – but unless you are a roofer and an electrician we can not stress enough what a bad idea that is.

Solar Panels are large and cumbersome, so only highly skilled people, with a good scaffolding setup, should be carrying them up ladders and lifting them across roofs.

So, we would suggest talking to a well established, MCS registered company about fitting your system.

If you are looking to sign up to an SEG with your energy supplier you must have a professional to certify your solar panel system.

Another advantage to using an MCS registered installer is the system will have all the certificates and warranties it should have, making it easier to sell should you be looking to move on.
4. Adding parts to your system
As you get to know your system you may want to start adding in different components or improvements – like extra batteries, optimisers for shaded panels or an EV charger.

You may find you need to 'pigeon proof' your panels if you find out feathered friends are congregating on your roof – this could also lead to you needing to clean your solar panels.
5.) Location and labour
If you have your system installed in London, or somewhere remote like the Scottish highlands, you can expect to be paying more for installation and labour than you would in, say, Leeds as pricing and the time it takes to do the job will be very different.

In the UK you can expect to pay between £300 and £500 a day for labour.
We install solar panels for homes across all mainland UK locations, including Plymouth, Derby, Glasgow, Bristol and more.
So, when will I break even on my Solar Panel investment?
People are surprised to find that solar panels have a life span of many decades. There are no moving parts to break and, as they are generally on roofs, damage is rare.

Most reputable companies will offer a 25 year performance warranty on PV Solar Panels – so you can be sure they'll be good to go for many years.

Batteries and inverters also have long lifespans – generally 10 years or more.

So, we calculate, including replacement and maintenance costs, most systems will break even at 10 – 12 years.

Your online quote for solar panel installation should come with a projection of the savings you will make, and that will have been independently verified by the EVPS.

Typically, at current electricity prices, a 10 panel system, with one battery, would cost around £13,000 and, over 25 years, would average savings of £40,420.
Learn more about are solar panels worth it?
Should you buy cheap solar panels?
You'd expect us to straight up say 'No!' here, but that would be slightly misleading.

Polycrystalline panels are cheaper than monocrystalline ones as they are easy to make. The downside is they are nowhere near as efficient so you would need many more panels for the same power output.

If you have the space it can be a solution but it wouldn't work for most domestic solar installations.

Also, cheaper monocrystalline panels may be made from inferior materials and therefore would be more likely to sustain damage or start to develop faults.
Do solar panels increase the value of your home?
Much like any home improvement that can lead to a drop in day to day costs, solar is going to increase the value of your property.
As far back as 2013 the government published a report claiming UK homeowners could increase the value of their home by up to 14%!
Insurance giants, Admiral, commissioned a report this year that found house prices increased by up to 25% when they included a solar energy system.
Admiral didn't just come up with this number off the top of their heads, they surveyed 2000 UK homeowners' perceptions of energy-saving measures and then used Rightmove data to showcase how the most popular green home improvement impact on a home's value.
We can imagine that the last 3 years of fuel scarcity, rising bills and cost of living have increased that percentage to what it is now!
Are there any grants available?
0% VAT on Domestic Installations.
You will not be charged VAT on any Solar Energy installations in the UK.

In 2022 the UK Government introduced zero-rate VAT as part of Zero Carbon. This is currently in place until March 2027.
Energy Company Obligation (ECO4) scheme
ECO4 could help you to apply for solar panel grants anytime over the next four years – depending on your circumstances, you could get access to fully-funded solar panels for home installation.
The LA flex scheme
This scheme is an extension of ECO4.

LA Flex is short for Local Authority Flexible Eligibility. Which means that you can apply to your local authority to secure a loan for domestic solar installations.
The Green Deal
The Green Deal started as a government run scheme but thanks to austerity and such like it wasn't sustainable.

However, private investors the Green Deal Finance Company now offer loans for certain energy-efficient home improvements. Which? Tell us you can still get loans to fund energy-efficient changes in your home and pay the money back through your energy bills.
The Smart Export Guarantee (SEG)
If you are wanting to sell energy back into the national grid you will need to set up an SEG with your energy provider.

The price you will get per kWh will be set by them and will be significantly less than the price you pay them for your energy – but that extra energy will just go to waste if you don't have an SEG so it's certainly worth it!
Learn more about solar panel grants. Or head straight to our residential solar panels.